Andrew and Kate Brown
Near Cotehele, Cornwall
A wildlife haven in the Tamar Valley with traditional hay meadows, orchards and woodland
Newton Farm, near Cotehele
Newton Farm is a smallholding in the Tamar Valley AONB on the border of the National Trust's Cotehele Estate.
In December 2005 we moved here with the intention of farming the land to produce food for our family. With the advice of Hugh Tyler from Natural England, over a period of several years, we gradually reduced our farming pursuits and started the process of changing from farming to regeneration of the natural environment.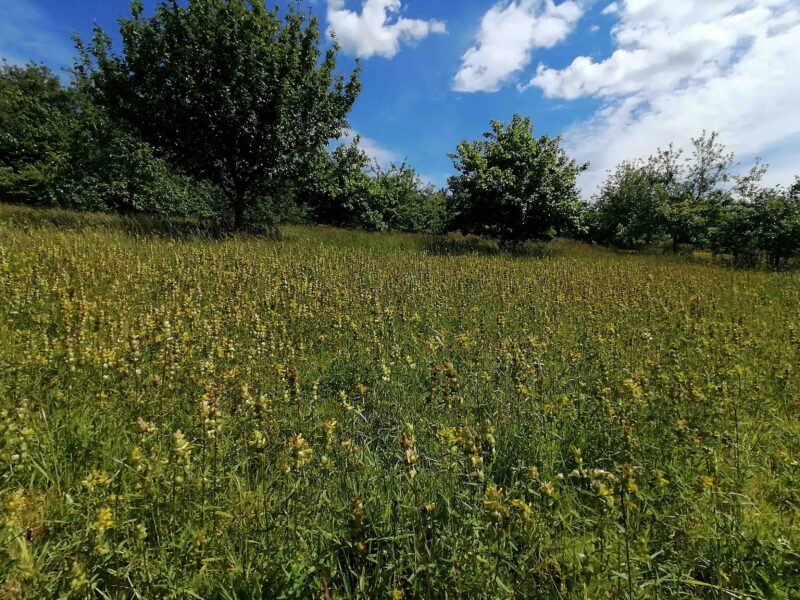 Learning from the mistakes we made – keeping too much stock and overgrazing our fields – we discovered that trying to keep every conceivable farm animal, on a small scale, was neither profitable nor sustainable.
We were accepted on the Organic High-Level Stewardship (OHLS) scheme which delivered access, in the form of a permissive footpath, conservation of a species rich meadow, re-creation of 200m of Cornish hedges and re-creation of 5 acres of traditional orchards. Complying with the regulations of stewardship agreements has been an education not a chore.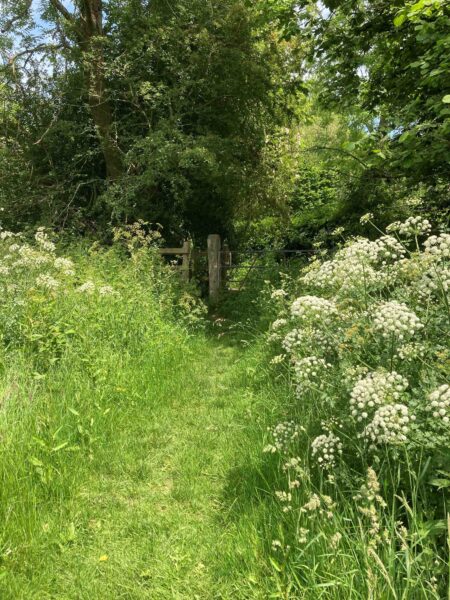 Our predecessors had created a 3-acre woodland corridor linking us with the Tamar estuarine woodland, which we enhanced with a 1.5-acre Woodland Trust project involving planting another 900 trees.
75% of the farm is now orchard, woodland, or traditional hay meadows. We have 2 horses, 4 old sheep, 4 KuneKune Pigs (grazing pigs), and 3 North Devon Ruby Red Heifers (on winter loan)
During various Cornish day trips we collected yellow rattle seeds and, in the autumn, we used the numerous molehills as seedbeds. Yellow rattle now pervades most of the farm. Using molehills as seedbeds has turned out to be a highly successful way of introducing new species onto the farm and then spreading the new species across the farm.
Several years ago, a good friend gave me a Southern Marsh Orchid in a large cake tin. The orchid came with a large clod of earth about 1 foot across and 4 inches deep.
I planted it in the garden and after a year there were two flowers which went to seed. I collected the seed pods and saved them. I was able to separate the two orchid bulbs from the clod of earth and replant them in my wildflower meadow. The bulbs can be split and transplanted just like any bulb BUT the seeds must have the mycelium symbiosis to develop.  The clod of earth contained mycelium which developing seeds require to germinate. I mixed the clod of earth with the seeds in a bucket, added mole hill soil and mixed it all together. The soil with orchid seeds was then sprinkled on the many mole hills in my wildflower meadow. Several years later in 2022 success, 24 Southern Marsh Orchid flowers appeared evenly spread over my wildflower meadow.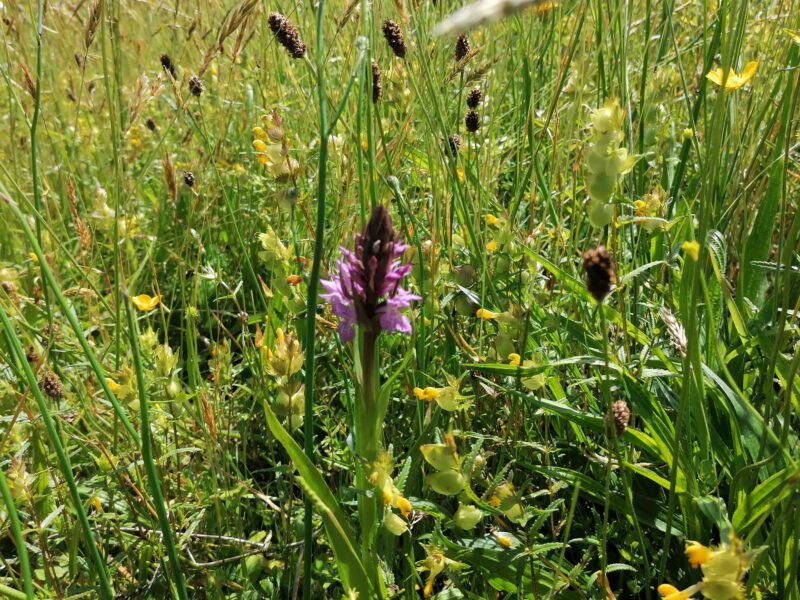 In 2021, the Green Recovery Challenge Fund enabled Plant Life and Moor Meadows to support a meadow management plan for Newton Farm.
Soil analyses were conducted in March of 2021 showed a Phosphate Index of < 1. The phosphate index was encouraging as it shows a low soil nutrient content, which is the preferred condition for wildflower establishment.
The soil pH was slightly acidic at pH 5.5 which is typical for the area.
After a hay cut, 3 hectares of orchards and meadows were prepared by scarification on the 24th August 2021 by a local farmer using a tine harrow.
Donor seed was sourced from our species rich Steep Field. Seed was collected by hand and the use of a leaf blower with a sucking function. This was added to 4kg of seed harvested from donor meadows across Devon, including later flowering species such as Knapweed and Wild Carrot. All the seed and eight bales of green hay taken from the Steep Field were divided up and spread over the orchards and meadows on the 25th of August 2021.
After 15 years the post and wire fencing had deteriorated so we removed most of it. We now use a mixture of stock proof Devon banks, electric fencing and NoFence collars to manage stock.
Defra's 'Farming in Protected Landscapes' scheme has helped finance NoFence collars for conservation grazing of the North Devon cattle which we have on loan from after hay-making to late January.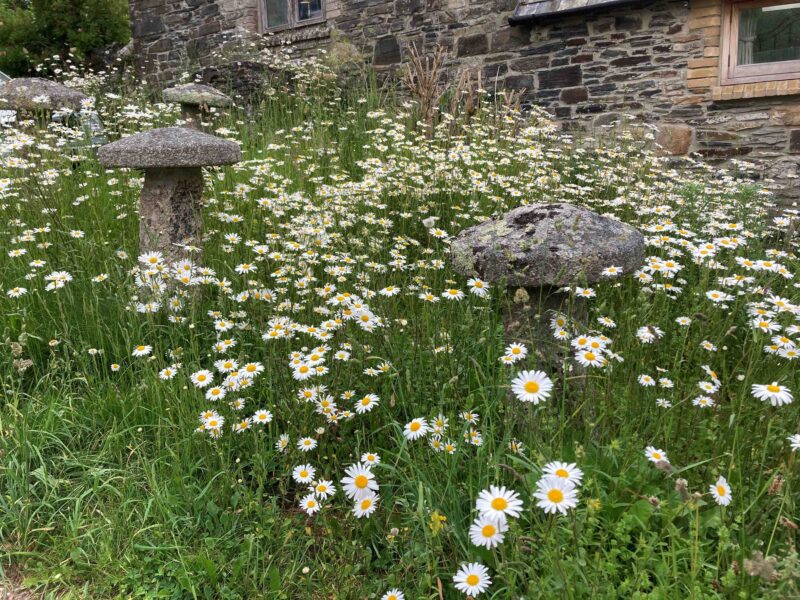 During the Moor Meadows Challacombe Farm Summer gathering I took the guided walk with Kevin Cox RSPB and ecologist Robbie Phillips. I was struck by the amazing effect that bird boxes could make to a local bird population in transitional habitats.
Over the last 17 years, removal of conifers and retention of dead wood at Newton Farm and the adjacent National Trust Cotehele estate has created deciduous wet woodland habitat.
In 2021 I found my first willow tit nest at Newton. The nest site was in a 12-year-old rotten fence post. Once I got my eye in, I found another old fence post that had been used as a nest. During 2021 I saw the willow tits every day if I spent an hour looking. In fact, they are very easy to spot as they are noisy and don't move around much. The willow tit only has one brood a year, with egg laying starting between late March and early June. They like to excavate their own nest hole every year, meaning that they will not use traditional nest boxes – so a little work must be done to mimic their preferred nesting site.
As they prefer a nest in natural logs, we added a strip of birch wood to the face of each nest box. The inside was then filled with sawdust to mimic a rotting log. The 2.5cm entrance hole metal plate stops predators like the Greater Spotted Woodpecker from digging out the chicks and feeding them to the hungry Greater Spotted Woodpecker offspring.
The 20-acre holding is turning into a nature reserve. Management using grazing, hay cutting, woodland management and introduction of new plant species from the local area with minimum effort and for maximum biodiversity is working.
Seventeen years have passed and the wildlife is becoming abundant. Each year something new turns up. One year an adder, another year a polecat, another year the willow tits and so on. Beavers, Dormice and Goshawk are close by. The valley has Osprey and Marsh Harrier. We're hoping that in the future it will have Pine Marten, Field Mice, Water Vole, and Sea Eagle.
Other "Me and my Meadow" stories