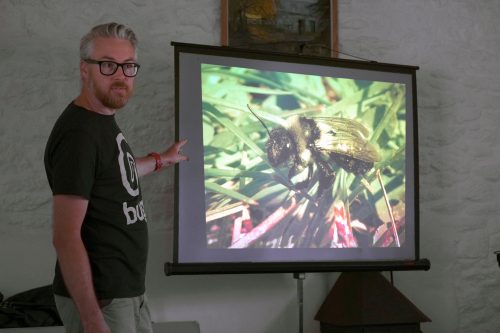 Here are some highlights from the many talks and events organised by Moor Meadows:
Talks
All talks starred* are available to view on our youtube channel here.
Why Meadows Matter*, by Stephen Moss, one of Britain's leading nature-writers, broadcasters and wildlife television producers
The Garden Jungle: how to save our insects*, with eminent bee scientist, Professor Dave Goulson
The Story of Knepp and Rewilding*, with Sir Charlie Burrell, Chagford, Dartmoor
The Secret World of Wild Bees and other pollinators: by bee experts Brigit Strawbridge Howard and John Walters
A Celebration of Wildflower Meadows*, by Peter Burgess, Conservation Director, Devon Wildlife Trust on the wide diversity of meadows and pastures in Devon and how they can be restored.
The Restoration of the Meadows at Deer Park Farm*, a talk by Audrey Compton. John Whetman and Audrey Compton won the England 2015 Meadow and Grasslands Award for their work at Deer Park Farm, a species rich County Wildlife Site.
Meadow Specialist Butterflies, at talk by Simon Phelps, Butterfly Conservation
The Moths of Meadows, a talk by Simon Phelps, Butterfly Conservation
More Meadows for Barn Owls*, a talk by David Ramsden Barn Owl Trust
Dartmoor's Threatened Butterflies, a talk by Megan Lowe, Butterfly Conservation
Help Turn Dartmoor into a Bee Nature Reserve*, Cathy Horsley, Bumblebee Conservation Trust
How to Create a Wildlife Garden*, a talk by naturalist John Walters
Nature Friendly Farming*, a talk by Rebecca Hosking MBE
The Birds of Meadows, a talk by naturalist John Walters
An Introduction to Wildflower Meadows*, a talk by broadcaster Stephen Moss
A Community Meadow, a talk by Nicky Scott on Chagford's community meadow
How to Create a Meadow, from a plot in the garden or on several acres, a talk by Charles Flower
How to Manage a Meadow, a talk by ecologist Sue Everett
Natural Beekeeping, a talk by Dartmoor honeybee expert Phil Chandler
How to Manage your Churchyard for People and Nature, Harriet Carty, Caring for God's Acre
A first meeting in April 2015 – A Celebration of Wildflower Meadows, in Scoriton Village Hall with renowned ecologist, George Peterken, author of the definitive guide with presentations on meadows restoration by Donna Cox and Lynne Kenderdine
Other Events – practical workshops, inspiring conferences and Open Meadows
The Secret Life of Meadows Conference 2019 – a series of talks and workshops, co-hosted with Devon Wildlife Trust, Woodah Farm, Dartmoor
The Meadow-Makers' Gathering 2019 – Upstairs, Downstairs: Life above and below ground in a meadow, Langaford Farm, Dartmoor
The Meadow-Makers' Festival 2017 – a series of open meadow days and workshops throughout June culminating in the Meadow Makers' Conference held on lst July to coincide with National Meadows Day
Harvest Mouse field workshop. Harvest Mouse workshop. Moor Meadows and Devon Mammal Group's Harvest Mouse Project teamed up to provide a free training session on the elusive and tiny harvest mouse
Bumble Bee Identification workshop
Insects of meadows ID workshop
Learn how to scythe – beginners' workshop (we've run ten of these popular workshops and have trained 86 people to scythe)
Wildflower identification workshop for beginners
Grassland Assessment and Monitoring workshop
Grasses identification workshop for beginners
Open Meadows  – members are invited to take part and open their meadow, when its at its best, for others to enjoy