Date:

20 May 2021

Until:

15 August 2021
During the summer months, some of Devon's most beautiful meadows are opening up for others to enjoy. Visits are free of charge. For would-be meadow-makers visits are also a brilliant chance to learn first-hand how owners have created and are managing their meadows.
OPEN MEADOWS 2021
PROGRAMME UPDATE: In case this is in your diary – the meadows at Kingswood House, Buckfastleigh on Saturday 5th June ARE NO LONGER OPEN (due to personal reasons).
Want a printed copy of the programme? Print it from here.
Though Open Meadows is free of charge, if you enjoy your visit and feel you would like to make a donation to support the work of Moor Meadows, you can do so here.
THURSDAY 20TH – TUESDAY 25TH MAY, 10am-1 pm, 2-5 pm
The Mill, Ideford, Chudleigh, TQ13 0AZ 
A beautiful flood-plain meadow, bordered by willow coppice, marshy ground and broad-leaved woodland. The meadow was used as occasional pasture until 2009, since when it has been cut and raked each year to lower fertility and encourage plant diversity, which is gradually increasing. Owners Robin & Veronica Aaronson say that in May, the meadow offers a very colourful display of buttercup, red campion, cuckoo-flower and cow parsley. You're welcome to turn up unannounced, but if possible, please email grandvizier51@gmail.com or text 07792 533310 in advance. Best bring wellies, as some of the meadow areas are wet.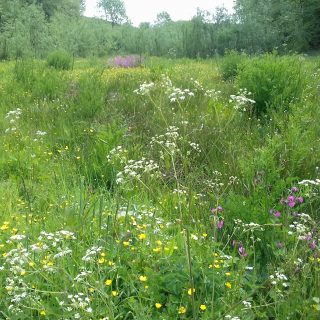 Directions: Ideford is reached via Chudleigh, Teignmouth or directly from the A380 (turn off for Ideford, not Ideford Combe). From Chudleigh you need the road past Ugbrooke House – signposted to the right as you come from the A38. Once in Ideford, turn right near the pub down Town Farm Lane (left turn if coming from Teignmouth). Follow the lane for 0.6 miles, past a farm, a stone barn and a no-through-road sign, until you see our sign for The Mill.
Parking: In stable yard. If no-one's around, help yourself to an information sheet and map from the table. Gate will be open.
Grid ref: SX886766 Google map: 50.579194, -3.575472
Refreshments: Cups of tea on the terrace are offered, but you might like to bring your own mug.
THURSDAY 27th MAY, 10am-5pm
Brook Manor, Buckfastleigh, TQ11 0HR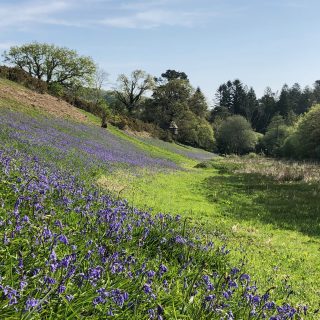 Come and enjoy the bluebells and many other spring flowers at Brook, an idyllic County Wildlife Site owned by Kevin and Donna Cox. There are a whole variety of habitats including semi-ancient natural woodland, hay meadows and an established species-rich wet meadow, which you are free to explore at leisure on a self-guided trail, or shorter walk for those who have difficulty with steep ground. You are welcome to bring a picnic and enjoy the tranquility of this special place. Booking is essential due to limited parking. please book here.
SUNDAY 30th MAY, 10:30am-1pm
Langaford Farm Charitable Trust, Chagford, TQ13 8RH
Langaford Farm is a wonderful mosaic of Rhos pasture and haymeadows, full of a stunning variety of wild flowers and rare invertebrates. In 2011 Langaford won first prize in Butterfly Conservation's Dartmoor Farmers Fritillary Award, in recognition of their effort over many years to restore and improve habitat for the fritillary butterflies.
Visit on June 30th for a guided walk with butterfly experts through the lush, damp meadows in search of the Marsh Fritillary butterfly and the Narrow-bordered Bee Hawk-moth. You'll learn about these special species and their habitat requirements along the way, and you'll probably see lots of other wildlife too! There'll also be the chance to discover Langaford's diverse variety of moths, attracted to light the night before. Booking essential, here.
TUESDAY 1st JUNE to end of July – Weekends and Evenings 
Goren Farm, Broadhayes, Stockland, Honiton, Devon EX14 9EN
Wander through 50 glorious acres of wonderful species-rich wildflower meadows at Goren Farm. There are easy access footpaths of differing lengths to suit everyone. Goren is open to the public until September but go in early to mid June to see thousands of orchids and in July to see the butterflies. There are stunning views of the Blackdown Hills.
Directions: 6m E of Honiton, 6m W of Axminster. Head for Stockland Hill television Mast. Turn east down Ridge Cross to ridge, signposted at the 1st T-Junction.
Other information: Species information signs and picnic tables around the fields. Farm café and shop selling wildflower seeds harvested from the farm. Goren support the NGS charity scheme and there is a £5 fee. Further details here.
SATURDAY 5th JUNE, 11am-3pm
The Meadow – Dartington Wild Pollinator & Honeybee Sanctuary, Dartington Estate, TQ9 6EP
Meadow makers & bee guardians Cami, Jamie and Ross have made a wild pollinator and honeybee sanctuary on the Dartington Estate. Their aim is to establish a thriving wildflower meadow, which will increase biodiversity and strengthen local ecology. They are creating a haven for wildlife by making natural habitats for bees, butterflies, bugs and birds. The project began in May 2015 and The Meadow is home to a pair of iconic tree beekeeping hives, built in the traditional Zeidler style.
Directions: Please park in the car park across the street from the main Dartington Hall entrance. Walk up the hill, past the Green Table cafe following the main road around the bend. There will be a row of cottages on your right and the gate to the meadow is on your left.
Grid reference: SX 7976 6274 Google map: 50.452135, -3.695235
Refreshments: Please bring any that you would like to share!
Other notes: Weather permitting. The Meadow is a wild pollinator haven so please be respectful where you step. Stick to the pathways so our day has as little foot fall-impact as possible. There are a few nettle and bramble patches so please dress appropriately for being on the land. Well-behaved dogs are welcome.
SATURDAY 5th, SUNDAY 6th, SUNDAY 20th & SATURDAY 26th JUNE, 10.30am-5pm
Lethytep, Penadlake, Lanreath, Cornwall, PL13 2PG 
Philip Hambly, who spoke on our recent How to Create a Meadow webinar, has been creating meadows on his farm since the 1990's. He has 40 acres of hay meadows, as well as woodland and lakes to walk around, on easy going, mown paths. Lethytep's green hay is always in hot demand for meadow restoration projects…and it's already all sold out for 2021!
Directions: Turn south off the A390 Liskeard to Lostwithiel road at East Taphouse, taking the B3359 towards Looe and Polperro. After 3.3 miles take the lane to your right signposted Penadlake. After 300 yards turn left and follow the lane straight down the hill to Penadlake. Satnav is not reliable.
Grid ref: SX175 588 Google map: 50.401046, -4.568341
Other notes: There is a £5 minimum donation with 100% going to a chosen charity. Strictly no dogs because of wildlife. For more details see: www.lethytep.co.uk
THURSDAY 10th to WEDNESDAY 30th JUNE, 2-6pm, by appointment
The Mill House, Clifford Bridge, Drewsteignton, EX6 6QE
Bas and Rosemary Payne's large garden was once frequently-cut, but they let the grass grow up and were bountifully rewarded – with many wildflowers, butterflies, slow worms and more. Come and be inspired by their beautiful mosaic of garden meadows – one small area was even concreted over until 9 years ago! Please email bas.payne@gmail.com or call 01647 24515 to arrange a visit.
Directions: From Clifford Cross (SX782 899) go SW across Clifford Bridge, follow main road right and house is on left just before entering woodland; house only ca. 200m from Clifford Cross.
Parking: If coming from Clifford Cross, carry on up road past house, and after ca.150m turn sharp left onto forestry road; parking on side of forestry road.
Grid ref: SX780 897 Google map: 50.694088, -3.728032
Refreshments: Happy to provide cups of tea / coffee if numbers allow.
Other notes: Discussion of management techniques and options is welcome. Fingle Woods back onto their garden and you are recommended to have a walk there afterwards if you have time.
SATURDAY 12th JUNE, 10.30am-1pm
Lewthorn Cross, Ilsington
Designated a County Wildlife Site in 2018 for its rich flora, in good years this 3.5-acre meadow hosts thousands of Southern March and Common Spotted orchids, as well as yellow rattle and over fifty other species. Owners Angela and Paul Brassley will be on site to give an overview of the history, development and management of their meadow. Angela says 'I'm sure potential meadow nature reserve owners will be delighted to learn our easy techniques!'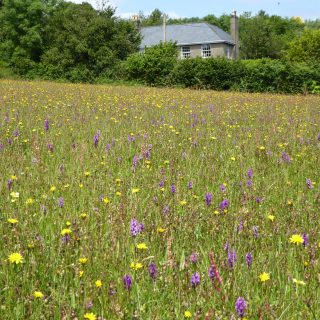 Directions: SatNav will work. From Drum Bridges roundabout on the A38 (the Bovey Tracey/Newton Abbot exit), follow the signs to Ilsington (3 miles).  At Ilsington continue up the road to Haytor, noting the Ilsington Hotel on the right. The meadow is at the crossroads just above the hotel.
Parking: If there's no space in the road opposite the field, turn left at Lewthorn Cross and park in the playing fields car park.
Grid ref: SX779761 Google map: 50.556060, -3.798097
Other notes: Anyone unable to visit on the 12th June would be welcome at other times. Please ring 01364 661285 to make arrangements.
SATURDAY 12th JUNE, 10am-5pm
Brook Manor, Buckfastleigh, TQ11 0HR
Enjoy a walk through the flower-filled meadows at Brook, an idyllic County Wildlife Site owned by Kevin and Donna Cox. There are a whole variety of habitats including semi-ancient natural woodland, hay meadows and an established species-rich wet meadow, which you can explore at leisure on a self-guided trail – as well as an easy walk for those who have difficulty with steep ground. You are welcome to bring a picnic and enjoy the tranquility of this special place. Booking is essential due to limited parking. Book here.
SUNDAY 13th JUNE, 11am – 3pm
Moorhaven Open Meadows
A wonderful opportunity to visit and compare two different meadows. In the grounds of a converted Victorian hospital, a community group lead by Jackie Andrade has recently started creating a meadow in the old cemetery, whilst a short way up the road, Trudi and David Bell have an established meadow and small woodland which they manage for wildlife.
Directions: Park at Jays Nursery, Moorhaven, Wrangaton Road, Bittaford, PL21 0TZ. From the parking area follow arrows firstly to The Cemetery and then to the meadow at Stoneybrook, a road walk of ~0.5 miles.
Grid reference: SX667 572 Google map: 50.400102, -3.876153
Other notes: Sorry, no dogs allowed. You're welcome to have a picnic on the felled Ash trees upon exiting the wood. Some of the paths in the wood are uneven/muddy, an alternative easy route will be signposted. Jackie, David or Trudi will be on the premises to answer your questions.
SUNDAY 20th JUNE, 11am-4pm – ALSO SEE Broady meadow nearby, opening same day
Pudsham Meadows, near Buckland-in-the-Moor
In some years these established species-rich meadows contain over 3000 orchid spikes of four species: Heath spotted-orchid; Greater butterfly-orchid, Southern marsh-orchid and Twayblade. This very impressive site is owned and carefully managed by the Dartmoor Preservation Association, and is always worth a visit.
Directions: At SX727 745 on the road between Cold East Cross and Cockington. There is limited parking on the roadside adjacent to the site where the bridlepath emerges onto Pudsham Down. Alternatively, park at Buckland village hall and 1 mile walk up.
Grid ref: SX727 745 Google Map: 50.556060, -3.798097
SUNDAY 20th June 12-5pm – ALSO SEE above
Broady Meadow, Buckland-in-the-Moor
An established species-rich meadow owned by Mary and Charles Staniland, with a wide variety of flowers and grasses over the summer, including Southern Marsh and Greater Butterfly orchids in June. Also home to many species of butterfly, moth, flying and crawling insects. A further description of the meadow can be found here.
Please also visit the churchyard of St Peter's where there are some areas of un-cut grass and an increasing variety of wild plants. The grass is scythed or mown and removed in late summer.
Directions: 100 yds through gate opposite Buckland-in-the-Moor village hall. Parking on road at Village Hall.
Grid reference: SX720 732 Google map: 50.544268, -3.807168
THURSDAY 24th to SUNDAY 27th JUNE, 11-3pm
Beetor Farm, North Bovey, nr Chagford
Come visit meadows on a farm that is now being managed for wildlife! There are a selection of fields to wander through, including County Wildlife Site designated haymeadows and pasture, as well as magical riverside woodland. Steve Pollard has created self-guided walks that vary in length between 0.3 and 1.5 miles. Feel free to bring a picnic as many of the meadows also have beautiful views.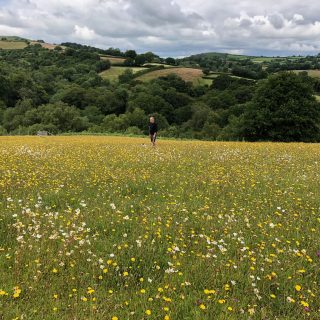 Directions: Access is not from the farmstead. From the B3212 (Moretonhampstead to Princetown road): 0.6 miles south of The Miniature Pony Centre, 0.8 miles north of the moor grid, take the road signed to Lettaford. Continue for 0.5 miles, keeping right at the fork, then turn into second field gate on right. It's opposite Langaford Farm, for those who know where that is. From Chagford: Cross over Langaford Bridge and turn into first field gate on left after 0.3 miles
Grid ref: SX704846 Google Map: 50.646927, -3.834468
Other notes: Well behaved dogs on leads welcome. Steve will be around if you want to talk meadows or ask any questions.
SUNDAY 27th JUNE – SUNDAY 11th JULY, 10am-7pm
Challacombe Farm, Postbridge, PL20 6TD
Spectacularly situated Challacombe Farm is a wildlife friendly livestock farm, that produces very high welfare, slow grown, 'Pasture-fed' beef and lamb, whilst conserving and enhancing the wildlife, landscape and archaeology that makes it such a special place. Take a walk around the haymeadows which Naomi Oakley & Mark Owen are restoring with green hay, and the species-rich, wet, rhos pastures.
On Sunday 27th June, Naomi and Mark will also be giving guided meadow walks with discussion about agriculture and regenerative farming at 12 and 2pm. There'll be the usual opportunity to pet their gorgeous Shetland x Icelandic lambs, and other activities too along with tea and cake! Everyone welcome.
If you'd prefer to experience the beauty and wildlife of the farm on a quieter day or at your own pace, for the following two weeks there'll be a 3/4 mile, self-guided trail through the haymeadows and past the rhos pasture – both of which will be full of flowers and insects. No booking required – just turn up when you want and follow the posts/orange tape. Feel free to bring a picnic too.
Parking: Parking is in the flat field beside the house – come down the drive and turn immediately left after crossing a small bridge.
Other notes: These events at Challacombe are free, but donations by request to Moor Meadows: https://moormeadows.org.uk/donate/ Nice dogs on leads welcome. See https://www.dartmoorfarm.com/ for more info or to buy meat and sheepskins – if you order in advance they can have it ready for you..
SATURDAY 31st JULY – SUNDAY 15th AUGUST, by appointment
Henley, East Anstey, Tiverton. EX16 9JP
Let Amy share with you her meadow triumphs and mistakes!  Will you think her colour-themed weeding experiment has worked?  Has her weed-once-a-year flower border been successful thanks to the meadow grass? Are the bee magnets in your garden the same as in hers? Walk around her garden and you will never feel that you need to tidy yours again. Yay for labour saving wildlife friendly gardening!
Discover if the ponies have massacred all the grasshoppers in the fields, and if they are still blessed with demoiselles. Let Amy show you where the deer wallow. Wear sunglasses as the fleabane can dazzle, and bring your binoculars to look for sticklebacks, and to examine insects up close.  Pray for a quiet day and sun to bring out the bees. (Loads of different habitats within 9 acres, including a ramshackle garden, wildlife ponds, fields with a mix of wet-loving plant thugs, a peat bog with stunning flowers, and scrub with structural grasses). Please call the day before to arrange a time: 07485 033138.
Directions: From the B3227, drive to the hamlet of Oldways End. Follow the road northwards from Oldways End towards the village of East Anstey. Follow the bends and do not leave this road. Pass a line of ex council houses on the left. Pass Blakes Coaches on the right but do not leave this road. Follow the road gently downhill, over an old railway bridge. Pass 3 red brick houses on the left. At the bottom of a dip, look for a tarmac pull in on the left, and the house sign: Henley. Drive in through the wooden gates towards the house (if you go uphill past a school, you have gone a little too far).
Parking: On the drive, anywhere near the house, leaving room for another car to pass yours.
Grid ref: SS868 262 Google map: 51.024490, -3.615367
Refreshments: Tea and cake
Other notes: Children welcome under their parents' strict supervision, because there are ponds and ditches, and poultry on site. Dogs on leads welcome, as are picnics on the lawn or in the first field. Gentle slopes, long grass, and the ground can be wet, rough and uneven in places, though paths will be mown. For your own comfort, please wear strong waterproof shoes, socks and long trousers, no sandals or shorts. Visitors will be shown around because there are several ponds and ditches.
If you wish to extend your day out, East Anstey is 20 minutes from the lovely town of Dulverton, the Southern Gateway to Exmoor, and 15 minutes from open moorland on Anstey Common or Winsford Hill. Choose a sunny day for the best colours and to see the most insects.
SUNDAY 15th August, 2-4pm
High House Waste, near Cornwood
A mire plant ID session run by the Dartmoor Preservation Association's brilliant ecologist, Hannah Gibbons, at their High House Waste site, a large, SSSI designated mosaic of species-rich mire, acid grassland and western gorse heath. This is a fantastic opportunity to learn about rare plants, such as white-beaked sedge and bog asphodel, at a beautiful and remote location, that also has stunning views on a clear day! Booking in advance is essential, please contact hannahgibbonsdpa@gmail.com
Directions: High House Waste is difficult to access and can only be accessed on foot by walking over the moor from East Rook Gate (SX605615) heading north-eastwards towards SX607623.
Parking: Parking will be organised closer to the date and those booked on to the ID session will be contacted a few days prior to the event regarding this.
Grid ref: SX607623 (access gate) Google Map: 50.443961, -3.962864 (access gate)
Refreshments: None, bring your own if required
Other notes: Due to the access limitations for this site it is recommended that you have a good level of walking fitness. Wellies are a must for the mire!
OPEN BY ARRANGEMENT
Species Rich Garden in Staverton
Malcolm Baldwin welcomes you to come and have a walk in his garden, which is full of wildflowers – about 40 species throughout the year. The back garden is a mixture of wildflowers and vegetables. Anyone is welcome from June onwards to visit on an ad hoc basis. Phone Malcolm on 01803 762751
ALWAYS OPEN
St Mary's Churchyard, Throwleigh, EX20 2HU
This beautiful churchyard is managed with wildflowers in mind, by the experienced hand of Steve Pocock, as part of the Living Churchyard scheme dating from the early 1990's. Much of the churchyard is species rich meadow says Steve, typically Ox-eye Daisy, Betony, Yellow Rattle, Mallow and Orchids. Devil's Bit Scabious is plentiful in late summer. Look out for the black, day flying, Chimney Sweeper moth here, often mistaken for a butterfly. The best time to visit is June to August. Donations most welcome.
Bellever Moor and Meadows Nature Reserve, Postbridge
A SSSI designated mosaic of 40 small fields, featuring a variety of traditional Dartmoor meadows including hay meadows and Rhos pasture. Best time to visit is June and July.
Dunsdon, Pancrasweek, Nr Holsworthy, EX22 7JW
Devon's "Coronation Meadow", and one of the best examples of Culm grassland. Visit between May and September.
Teigngrace Meadow, nr Heathfield, Newton Abbot, TQ12 6RG
Spectacularly created on top of clay waste from nearby quarries, these 33 hectares are now a haven for wildlife. Visit between March to October.
Fernworthy Meadows, Chagford, TQ13 8EA
5 hectares of Rhos pasture managed as a habitat for Marsh Fritillary butterflies. There are information signs in the meadows.
Directions: Walk through the gate from the end car park of Fernworthy Reservoir. It's a lovely walk around the reservoir as well.
Grid ref: SX661841 Google map: 50.641647, -3.894457
IMPROMPTU OPEN MEADOWS
This programme will be updated if a meadow owner notifies us that their meadow is looking rather lovely and they also wish to open.
MEADOW VISITS – WHAT TO BRING
Wear appropriate footwear for walking on rough terrain. Like everywhere, some meadowland can be humpy and bumpy underfoot, maybe wet in places, or it can be steep. Bring a hat & water with you if it's hot and rain gear if the forecast looks less favourable. Binoculars are useful if you have them, and it's often OK to bring a picnic – check the listings. Whilst the meadow owner will have taken reasonable precautions to ensure the safety of visitors, please take care as your visit, as with visiting anywhere in the countryside, has to be at your own risk.
DO YOU OWN A MEADOW? 
If you have a beautiful wildflower meadow, please consider opening. For more details email Steve: steve.moormeadows@gmail.com.
WANT A PRINTED COPY? Print it out from here.