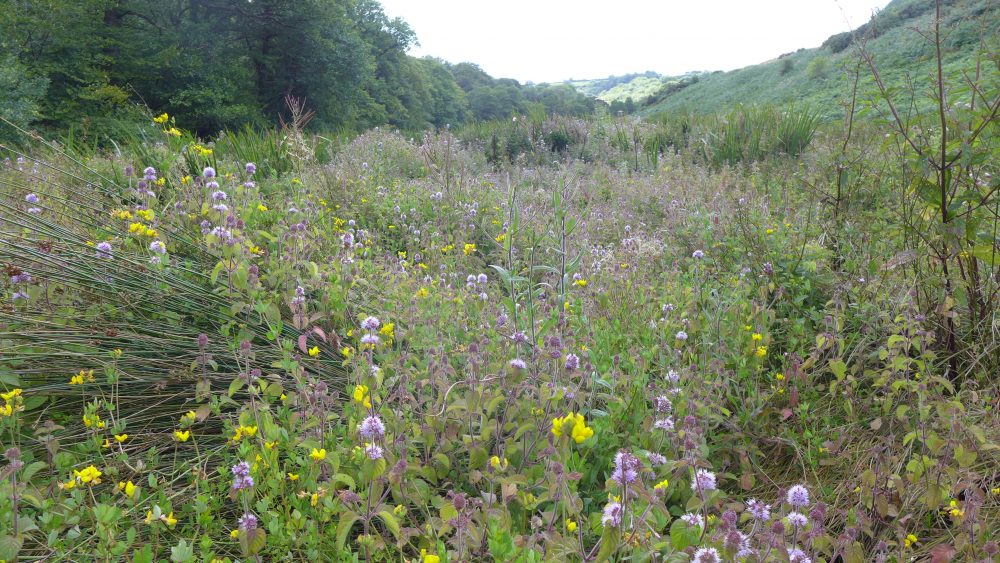 Sue Everett, ecologist and columnist for British Wildlife magazine, has many years' experience in advising on wildlife habitat restoration, especially creating and restoring wildflower grasslands at all scales. Here she gives Moor Meadows her recommendations for bringing back the life to a meadow.
So you want to restore a meadow – to bring back the wild flowers, butterflies and bees? Restoring it might be easy, or it could be quite a challenge – one size does not fit all. Fortunately there's lots of information available online, such as Magnificent Meadows the Flora Locale Restoration Library and Devon Wildlife Trust Restoring the Culm.
Key points to consider
How big is it?
Is the meadow a field? Then you need grazing animals and, ideally, a means of mowing and taking off the 'hay'.
Is the meadow part of your garden? You will need to be able to cut the vegetation several times and remove it after it has been cut in the summer.
What's been done before?
Having a knowledge and understanding of the past management history will help you to work out what may need to be done. For example, fields that have been agriculturally improved (fertilised, weedkilled and/or resown with agricultural grass varieties) may have no viable seed bank of either wild flowers or grasses, and seed-rich green hay or other suitable native seed may need to be introduced. However, if it's very fertile, this could make restoration more difficult and lengthy.
What is the existing wildlife value?
Before embarking on what could be quite drastic interventions make sure you understand if there is any existing wildlife value to the land. This could be for wild flowers, breeding birds, amphibians and reptiles and wild flora. What you find may dictate what you decide to do, where and when. Seek advice from someone who can help you with this, such as a local ecologist or the local wildlife trust may help you.
What's growing now?
Armed with a good wild flower book (or assisted by a botanist from Moor Meadows) make a list of the grasses and wild flowers that are present, ideally in late June. Try using the simple grassland survey approach published by Natural England in the Higher Level Stewardship Farm Environment Plan (FEP) Manual (Section 2.5, p.55) to identify whether the grassland is already species-rich, semi-improved or improved.
If the grassland has been kept very short: Sometimes there's lots of wild plants, but they've just got suppressed by overgrazing or frequent mowing. Just relaxing either for a window of 6-8 weeks may reveal all sorts of goodies. If it's your lawn, then just slacking off the mowing for this time might be all you need to do, before returning to your routine mowing – if lots of flowers suddenly appear, there's not much to do other than get the grazing and mowing right. If there are few flowers, then the grassland may need more help to recover. Many agricultural fields come into this category, having been "improved" for farming – cultivated and re-seeded or the grassland sprayed with weedkillers or treated with fertilisers – activities which may have wiped out the original diversity of wild plants and impoverished the seed bank.
If the grassland hasn't been grazed or mown, or is tussocky, weedy or is becoming invaded by bramble or bracken: The likelihood is that many wild flowers have been shaded out by taller grasses and other species. The immediate priority will be to restore suitable grazing and/or mowing, to reduce the quantity of tussocky vegetation. Topping rush, tussocky grass and bracken, and using mattocks to get out bramble, may be necessary. Creeping Thistle can be controlled by pulling but larger stands may need to be spot-treated with herbicide. It is important to understand that most herbicides will cause collateral damage to a range of wild flowers – a quad-bike mounted boom spray if used is likely to kill many species, not just thistles. However, extreme weediness may need extreme measures; if there's no meadow flowers, complete destruction of the existing grassland may need to be considered. This normally involves herbicide treatment of the existing sward, followed by a repeat treatment or cultivation, before re-seeding with a suitable seed mix. Weeds germinating from the seedbank after cultivation will also need herbicide treatment prior to seed introduction.
What's your soil and the land characteristics?
It can be worth testing the soil – if it's high in nitrogen and phosphate, then restoration will take time and be more challenging. The soil type and pH will vary depending on the underlying geology and location in the landscape. Identifying the land capability and characteristics will dictate what you will do and what might be achieved. For example, north-facing slopes will not necessarily ever be flower-rich. There will be different outcomes expected and possible for fields on wet ground, well-drained limestone or sandy soils. Soils high in nitrogen or phosphate may also be more challenging to restore and for these it is usually advisable to repeatedly crop off the grass, while applying no fertilisers, for at least five years before embarking on any further action.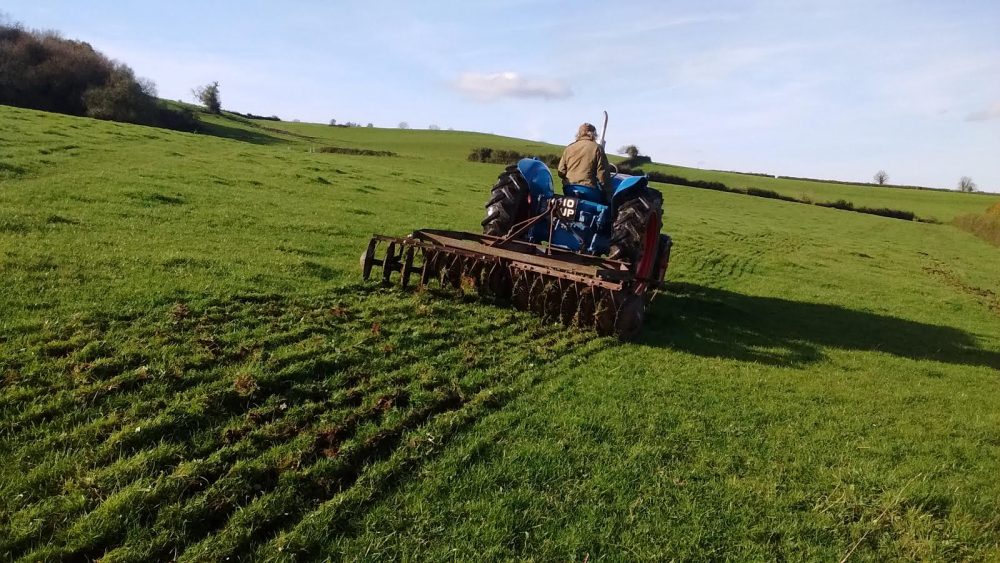 Deciding what to do
Capability
In considering whether to proceed with restoration, make sure to have in place the capability to carry out the necessary ongoing grazing and or mowing management. Without this capability, restoration is unlikely to be feasible.
Several challenges include:
Finding a grazier who understands what's needed and can move animals on and off at suitable times to meet the objectives for nature.
Organising hay / grassland cutting – at the right time and by farmers or contractors who have the right machinery.
Disposing of cut material if it isn't going to be used for hay – there can be big volumes of cut grass, even from small areas.
Accessibility of the land – size of gates may prevent access by larger tractors and mowers, or there may be other difficulties in accessing the land, e.g. if it's very wet.
Grazing
The wild plants of pastures and meadows are adapted to grazing and mowing, and getting this right is vital when restoring your grassland at the field-scale. Guidance is available on the Flora locale Restoration Library (e.g. Grazing for wild plants and biodiversity and Hay Meadows) . Where mowing isn't going to be possible, there's growing experience that Planned Holistic Grazing can be a good way to manage and restore flower rich grassland. See Rob Havard's videos for information on this approach. He's using this successfully on his own farm (where he's restoring flower-rich meadows) as well as on land he grazes for the National Trust. Wherever possible, whether the field is grazed or mown, leaving some unmown and ungrazed edges around the field provides excellent habitat for invertebrates. Cutting or grazing these on rotation will however be necessary, to prevent the spread of unwanted species such as bramble, bracken and blackthorn.
Mowing
Making and taking hay, in mid-summer, will mean the main flowering period will be May-July. All the cut vegetation must be removed, but ideally leaving margins around the field for insects to roost and overwinter. For well-drained fields, spring grazing with sheep may be practised and it's also usual to graze the 'aftermath' growth, once the hay's been taken off and the grass grows back in late summer-early autumn. Marshy fields where Marsh Fritillary butterflies occur should not be spring-grazed (see specific advice on this). See the Flora Locale hay meadow management page.
For urban grasslands and lawns, mowing will be needed two or three times a year, the timing of the cuts geared towards the main wildflower windows where you are promoting the wild flowers. This can be spring (for Cuckoo Flower, Green-winged Orchid, Cowslips) or summer. The vegetation should be cut short and cuttings raked off if they smother the land.
Restorative management, for previously undermanaged grasslands may include 'topping' to reduce quantities of tussocky species (including rush) followed by grazing, or repeated frequent mowing and removal of cuttings on small unfarmed areas.
Introducing seed
If it's clear there are no wild flowers, and the grassland is not rank or weedy, then seed can be introduced. This should be appropriately sourced, and reflect the range of species that can be expected to grow in similar habitats nearby. The land needs to be free of weeds and prepared, e.g. using a power harrow to expose bare soil. For further advice, including on methods for introducing and establishing seed, see the Flora locale and Magnificent Meadows websites. Management during the 2-year establishment phase must be implemented, involving topping or light grazing during late spring-summer, and grazing or mowing at the end of the season. There are local farmers in and around Dartmoor and members within the group who often are able to supply seed-rich hay bales, hay or seed harvested off their fields. Flora Locale provide guidance on obtaining seed
Topsoil stripping
This is a drastic and expensive activity and not usually a viable option. Refer to guidance here (PDF).
CASE STUDIES:
Be inspired by other meadow makers who have restored their fields into wildflower rich grasslands.
And also Chris Chapman's Meadow