One day SCYTHING workshops – for beginners
Date:

5 August 2022

Until:

6 August 2022

Time:

10am - 4pm

Address:

Postbridge and Buckfastleigh, Dartmoor
Friday 5th August 2022
Challacombe Farm, Postbridge, Dartmoor
10.00–16.00
OR
Saturday 6th August 2022 (FULLY BOOKED)
Brook Manor, Buckfastleigh, Dartmoor
10.00–16.00
Learn the art of scything on this one day course with experienced scythe trainer Chris Riley
Learn everything you need to know to get started
Austrian light weight scythes will be provided for all participants to use on the day. There will be instruction on how to set up a scythe optimally, how to keep it sharp, and how to mow with an efficient movement.
Scythes are a low tech, low carbon and quiet alternative to a noisy machine. A modern lightweight continental scythe is surprisingly effective for mowing small areas of flower-rich grassland, as well as controlling bracken,  bramble and more.
This workshop is designed for beginners but will also be useful for those who have mowed before and would like a refresher.
The history of the scythe and its use in management will be discussed.
Austrian scythe equipment will be also be available to purchase.
COURSE FEE just £50, including use of a light weight Austrian scythe and tea & cake.
Our workshops are not-for-profit and cover the cost of the trainer.
Places on each workshop will be limited to 8 participants – so if you would like to come book your place now (with preferred location – Postbridge or Buckfastleigh, both Dartmoor) by emailing David Crook: davidjcrook@outlook.com
Chris Riley is an experienced scythe trainer. You can find out more about Chris and his courses here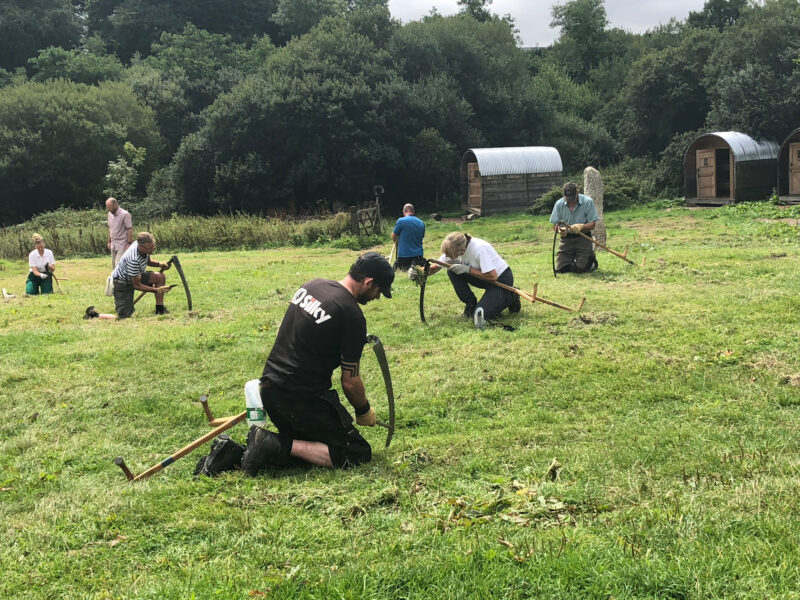 Workshop at Brimpts Farm. More than sixty people have been trained in the use of the scythe
through Moor Meadows. Photo: David Atwell